Housing Service for short term guests
Dear guests!
On this Website you can find informations about our housing and some general topics concerning your stay in Vienna.
We heavily rely on your reports, therfore announce any inconvenience/damage immediately, so we can help out as quickly as possible.
We are going to update this website on a constant basis. Please check regularly!
Enjoy your stay in Vienna!
Emergency 24/7
Fire Department |  122
Police |  133
Ambulance |  144
Emergency Medical Service |  141
Health Hotline "Covid-19" |  +43-1-1450
Key Service | +43-1-641 00 39 – Take care, this service is expensive
General
If you suspect that you might be infected, please call the health hotline +43-1-1450.
Please note the actual protective measures against the coronavirus!
Health, Care and Consumer Protection
Information in 17 different languages
Zoom House Keeping
You'll find a certified disinfectant dispenser next to the mailboxes.  Washing hands on a regular basis with this soap kills 80% of bacteria/viruses.
Cleaning and all repair work can be carried out – however residents must not be present in the same room. A mask is required in every apartment.
Zoom Housing will inform you immediately, if stronger measures must be taken.
We use in your building/apartment:
Surface desinfectant: Safe Surface 
Hand disinfectant: Lerasept HD
We use for special items (p.e. keys):
First Steps |  Last Steps
Moving out
Here is some information about the procedure of your check-out (latest 10am)
·         Make sure to leave the apartment in a clean state and rid the accommodation of any waste. Do not forget to remove everything from the fridge/freezer.
Furthermore, make sure to dispose of any empty glass bottles in the correct trash cans near your location. Abnormally dirty apartments may result in extra cleaning fees.
·         Leave all set of keys on the kitchen table, when leaving the apartment.
General House Information
Housing Rules
1.Keep the apartment clean.
2.No noise after 10:00 p.m. This is a Vienna-wide rule. Noise detection devices are in every unit.
3.No overnight guests.
4.No parties in apartments. You can have guests for dinner but refer to Rules 1 and 2!
5.Save energy. Turn off lights, unplug unused electronic devices when you leave the apartment. Be kind to our planet.
6.Recycle. Usually, paper containers and regular garbage are disposed of in your house, whereas glass and metal are typically recycled in certain bins located close to your street.
7.Leave no personal belongings behind when you move out. Leave the apartment as you found it when you moved in.
8.WIFI is available in your apartments. You must accept the general Internet usage rule described in Rule 9.
9.Using the internet provided in your home to upload, download, or stream illegal content is strictly prohibited. Austria is very strict with this and it is possible that you will be fined.
10.No candles in the apartment. Yes, they smell good, but an apartment in flames smells worse.
11.Take care of the things provided in your housing – damaged or missing items will have to be repaired/replaced and you will be charged for the costs through your landlord.
12.If issues with apartment keys and locks arise (such as a key breaks off in a lock, the lock no longer functions, you cannot enter/exit your room or building, etc.), contact your landlord or emergency phone immediately.
13.Report any already existing damages in your housing at the check in. Check outlets, window panes, beds, heaters, scratches or dents in the walls, etc. Otherwise, it may result in you incurring extra damage fees that you weren't actually responsible for.
14.You take full responsibility for any visitors that you bring to your housing facility. This includes any kind of damage caused to housing1050 as well as disturbing your fellow CEU students and neighbors.
15.You are not allowed to touch or manipulate the fire/smoke detectors in your housing. If you believe it to be broken, please report it immediately.
16.Never cook food on the stovetop unattended, and keep a close eye on food baking inside the oven. Fire alarms will be activated, which may lead to extra charges.
17.Maintenance work will be carried out in your housing facility as needed. You will be informed every time in advance so that it will not take you by surprise.
18. The common areas of the house are equipped with video surveillance (main entrance, laundry room, etc.).
Waste Separation
WASTE SEPARATION VIENNA
In your rooms there are four different kinds of garbage cans
• Paper
• Plastic Bottles, Drink Cartons & Cans
• Glass
• Residual Waste
At your house you will find a garbage room, where you can dispose
• Paper
• Residual Waste
On the street nearby your house there are garbage cans, where another 4 kinds of waste can be thrown away.
• Organic Waste
• Clear Glass
• Coloured Glass
• Plastic Bottles, Drink Cartons & Cans
For your Hazardous Waste there are special hazardous waste collection points or waste collection centres.
For more information you can go to "Weniger Mist at" (only available in German)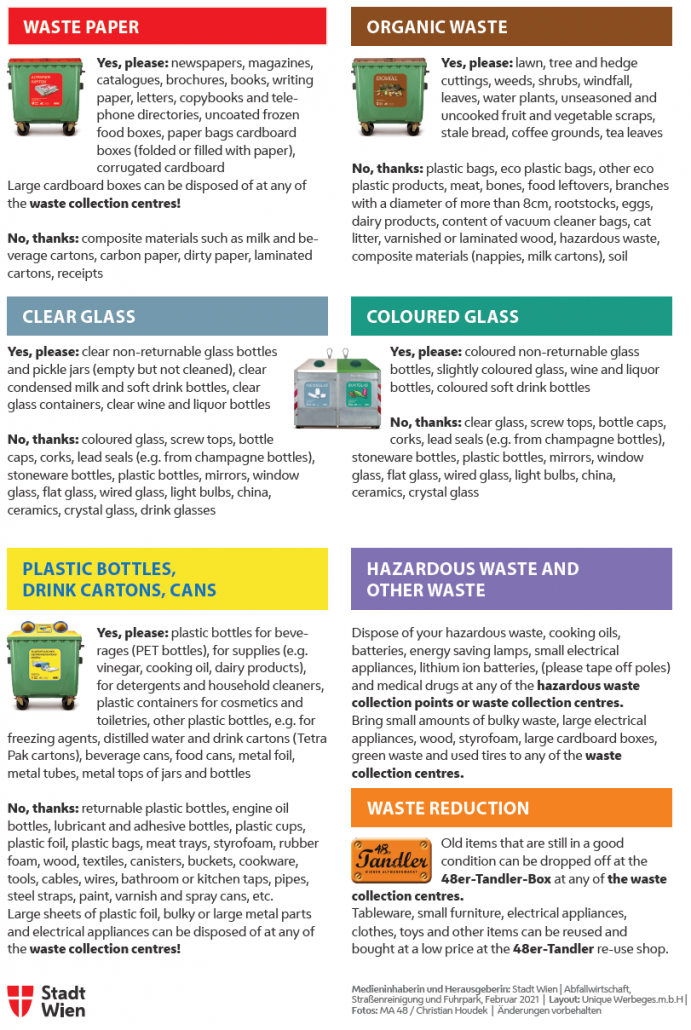 Electricity, Heating, Water and Safety
The fuse box is in your apartment, so if there's a blackout in one of the rooms please check the fuse box first.
When leaving the apartment please turn off the lights.
Please note that all sockets in Austria are limited to 230V, 2800W, so please consider this information when using electronical devices
There is central heating in the house! The thermostat is working in an automatic program mode.
If you have any issues concerning the heating please notify us via the damage report on this website
Tap water is drinkable and delicious in Austria so go for it
There is a first aid kit in every apartment in the kitchen as well as a fire blanket. You will find a fire extinguisher in every floor of the building.  Please notify us whenever you have to use one of those via the damage report.
Smoke detectors are in every room in your apartment. (if their battery is empty there will be a beep signal, please let us know via the damage report)
Please respect the fire regulations and inform you about the escape route, in case of a fire alarm.
The common areas of the house are equipped with video surveillance (main entrance, laundry room, etc.).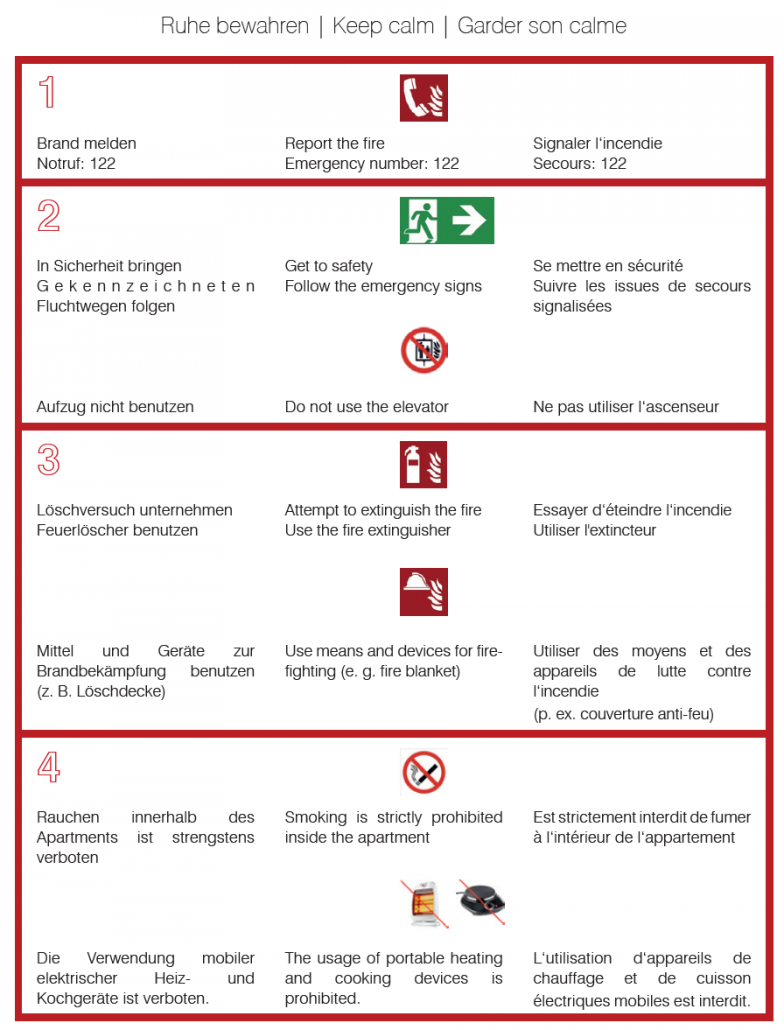 General Q & A
Kitchen Sink: In Austria, the kitchen sink is not allowed to have a shredder, so please dispose leftovers in your trash can.
Toaster: If bread gets stuck in the machine, UNPLUG the machine before trying to get it out.
Dishwasher: Essensreste vorher entfernen – Check the Sieb – Whenever there's water/foam left in the machine or the program doesn't start at all, please contact us via the damage report
Hot water kettle/Coffee machine: The kettle can be plugged in and is ready to use. Do NOT try to heat those devices by using the stove, otherwise the plastic melts and it might lead to a fire!
Toilet: This is not a trash can!
Fridge: Make sure to close your fridge at all times. If the machine beeps while closed please contact us via the damage report.
Microwave: Quick reminder on what not to put in a microwave: eggs, chestnuts, oil and metal
Freezer: If a drawer in the freezer is stuck, do not try to forcefully open it! Rather turn down the cold and try again in a few hours.
Laundry
The washing machine and the dryer in the cellar can be used for a small fee.
Attention: only use 1,- Euro coins! The devices are paid and powered separately!
The laundry has to be removed within the 30 minutes you paid for, if not, the machine locks itself. In order to open the washing machine, press the black button once. This will power the washing machine for 1 minute, allowing you to remove your laundry. The black button works only 5 times!
If problems with the machines occur, please use the damage report on this website.
Pls respect the timeslots!
Useful Information
Siebenbrunnengasse 58
Meeting Point
Here's some quick information concerning the meeting points.
If you plan on being a bigger group and you need a location to meet up. we'd ask you to not to gather in front of Siebenbrunnengasse 58 because the past has shown that the neighbors tend to cause trouble by either calling the police or contacting the landlord per se.
Therefore please gather at Siebenbrunnenplatz.
Thank you for understanding!
Radio & Television
In Austria you are required by law to register and purchase a licence for all broadcasting reception equipment.
For further informations please follow the link …
Lost Property
Lost Property Office:
Rechte Wienzeile 105
1050 Wien
+43 1 4000-05000
post@mba04.wien.gv.at
District Exchange, 1050
Rechte Wienzeile 105
1050 Wien
+43 1 4000-05000
post@mba04.wien.gv.at
Zoom Housing
Here you can find our Team to prevent misunderstandings …